Please support those businesses and organisations on this page who are supporting Elizabeth Anne Wright (Liz) to raise awareness and raise funds for Ovarian Cancer. Liz is a Wangi Wangi, NSW Resident and a wonderful, positive women.
Your Support is greatly appreciated. Thank you very much.
Note to Supporter organisations: If you don't want your logo used or your contact information is incorrect, please email contact@elizabeth-anne-wright.com.au and we will correct it asap.
Cash Donations from individuals and organisations are listed on the Cash Donators Page
Past Event: Teal Sisters Walk – NSW – SA – Vic
21st October 2018 – 10.00am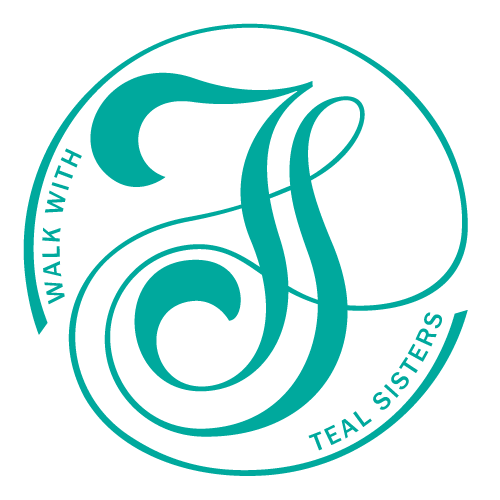 A warm THANK YOU to all Supporters. Your support is greatly appreciated
Summary of Supporters for the TEAL SISTERS WALK : to read more about their contribution and/or get their contact details just click on their name below:
Again thank you, so much, for your support
Supporter

Event

Contribution & Contact

Woolworths
Toronto
Teal Sisters
Walk
Donated a $50 food voucher which will be used for sausages.
Address:  Brighton Ave & Pemell St, Toronto NSW 2283Contact Number: (02) 4902 2732
Onya Printing
Warners Bay
Teal Sisters
Walk
Onya printing donated the cost of the printing on the volunteer t-shirts for the event.

Phone:(02) 49 540 550

Embroidery – Screen Printing – Digital Printing – Transfers – Plain Stock – Signage
sales@onyascreenprinting.com.au
Web site: www.onyascreenprinting.com.au

AAA Tyre Factory
Teal Sisters
Walk
Paid for the insurance for the event $261.04

Phone: Guildford  (02) 9681 3940 and
Castle Hill  (02) 8677 3837
Web site: www.aaatyrefactory.com.au  and Facebook

Hayden
Roberts
Teal Sisters
Walk
Graphic designer – Did the beautiful Teal  Sisters walk logo for the event.

email: hayden.roberts3@icloud.com

Nick Pratley
Teal Sisters Walk
Nick is our event photographer & is kindly giving up his time to come and take photos of participants and volunteers on the day. Photos will be uploaded to the web site after the event.

Nick can be contacted at:  nick@npratley.net

Office Works

Warners Bay

Teal Sisters Walk

Officeworks Warners Bay have donated $88 towards the printing of flyers, posters and banners for the event.Address: 240-260 Hillsborough Rd, Warners Bay NSW 2282
Phone: 02 4014 9400
Web site:  officeworks.com.au
LJ Hooker Wangi Wangi- Arlene & Wayne Field
Teal Sisters Walk

 WANGI WANGI

Arlene and Wayne have kindly covered the cost of $120 for the volunteer t-shirts.

Address: 3/232 Watkins Rd, Wangi Wangi NSW 2267

Phone:  02 4975 1644

Vita Cafe & Restaurant
Teal Sisters Walk

Two $50 meal vouchers to be raffled on the day of the event.

295 Watkins Road, Wangi Wangi NSW  Phone: 02 49754588

Priceline Toronto
Teal Sisters Walk

Donation of a first aid kit for the event.
Toronto Town Square, Shop 14, 63 The Blvd, Toronto  Phone: 49503000

Wangi Bowling Club
Teal Sisters Walk
Wangi Wangi Families
Teal Sisters Walk

Allison Heffernan, Ann Karhu and Josina Vaderwyk together with Wangi Wangi Families, host "WANGI'S BIGGEST BRUNCH"

A massive $1514.75 was raised at the event

Facebook

Flight Centre Toronto
Teal Sisters Walk

Donated a $200 voucher to be raffled on the day of the event and spent in store

82 The Blvd, Toronto NSW  Phone: 1300 561 464

The Hair Retreat of Wangi
Teal Sisters Walk

Donated a shampoo, conditioner and detangler gift pack AND  a ladies shampoo and blow wave all to be raffled on the day of the event

4/226 Watkins Road, Wangi Wangi

Phone: 02 49755122

Website

Wangi Wangi RSL Club
Teal Sisters Walk

Donated a $50 meal voucher for the dining room

275 Watkins Road, Wangi Wangi

Phone: 02 4975 1433

Website

Anytime Fitness Warner's Bay
Teal Sisters Walk

Donated a 3 Month membership valued at $417

Unit 3 , 10-16 Medcalf St Warners Bay NSW

Phone: 02 49544288

Website

Brown Sugar Restaurant
Teal Sisters Walk
Guardian Pharmacy Warner's Bay
Teal Sisters Walk

Donate two (2) scented candles valued at $50

30 John Street, Warner's Bay
Phone: 02 49488181

Westlakes Line Dancers
Teal Sisters Walk

The Westlake line Dancers are a wonderful caring group who have donated $500 for this event.

Their classes are fun, so if you can support them give them a call,  book in and enjoy yourself.

Classes can be found day and night in Teralba, Cardiff South, Largs and Morisset. New Beginners are always welcome and we provide an extensive Beginner programme to get you on your way. Easy Intermediate and Intermediate dancers are also catered for at all classes

Phone: 0414420808

Coles Warner's Bay
Teal Sisters Walk

Donated a $50 voucher to go towards the bbq for the event

30-32 John Street, Warner's Bay NSW 2282
Phone: 02 49473800

Cart "Ya" Coffee
Teal Sisters Walk

Grant will be at the event and will be donating 50c from every coffee or tea sold to the fundraiser.

Phone: 0434227909

Cut 'N' Edge Lawn Specialist
Teal Sisters Walk

Donated 2 x $50 and 1 x $100 vouchers

Cut 'N' Edge Lawn Specialist services Newcastle and Lake Macquarie and has some great reviews on Facebook.

phone: 0411387893

Greg Piper MP
Teal Sisters Walk

Greg Piper came along and supported Liz at the event. He is a wonderful generous man who takes time out to support various causes. He is a true humanitarian as well as a NSW State Member for Lake Macquarie
Past Event: Wangi Wangi RSL Shave for Elizabeth Anne Wright 14/7/17
Summary of Supporters: to read more about their contribution and/or get their contact details just click on their name below:
Supporters having their head shaved with Liz and raising money:
Elizabeth Anne Wright (Liz)
Jeff Wright (Liz's Husband)
Darren Campbell
Ethan Vlaich
Sue Jacobson
Jesse Whittaker
Josh Threadgate (Liz's son-in-law)
Mathew Greentree
Jerard O'Neil
Clinton Cream
Supporter

Event

Contribution & Contact

Wangi RSL

Wangi Wangi RSL Shave for Elizabeth Anne Wright 14/7/17
Event being hosted at the RSL. Angela and Eliza from the RSL are assisting with the event and John Cizzo will be effectively running the event on the night as well as organize the flow of events and set up in consultation with Angela. Thanks also to all the RSL staff who are working on the night. The RSL & Liz have sought out donations to be raffled off on the night with all funds being donated to Ovarian Cancer Australia. Any contributors will be listed on this supporter page.

Wangi RSL Contact Details:

275 Watkins Rd, Wangi Wangi NSW 2267
Web: www.wangirsl.com.au
Phone: (02) 4975 1433
Facebook: @wangiwangirsl

Wangi Amateur Sailing Club
 Wangi Wangi RSL Shave for Elizabeth Anne Wright 14/7/17
Liz is a member of the WASC and many members and staff are helping out with set up and also getting the word out. Lyn McAllister, and other WASC members have been fantastic in getting the word out.
Website: WASC
Facebook: @wangiamateursailingclub
Address: 269 Watkins Rd Wangi Wangi, NSW, 2267 (next to the RSL club)
Email: wascemail@bigpond.com
Club Captain, Juniors: Warwick 0447 634 137
Vice Commodore: Sandra 0418 488 554
Wangi Barber Shop & Beadery

Wangi Wangi RSL Shave for Elizabeth Anne Wright 14/7/17
Steve from the Wangi Barber shop & Beadery will be doing the shave for liz. He will also be shaving heads and beards on the night for a donation.

Address: 285 Watkins Rd, Wangi Wangi NSW 2267

Ovarian Cancer Australia
Wangi Wangi RSL Shave for Elizabeth Anne Wright 14/7/17
Ovarian Cancer Australia (OCA) is providing infographic pictures that members/guests and visitors can take home and give to other women to make them aware. They have been fantastic and we have our own contact for our questions. OCA is an independent national organisation that takes action for people affected by ovarian cancer in Australia. OCA is the only organisation that provides direct support to those living with ovarian cancer – that is, the women experiencing the disease as well as their loved ones – through support groups, phone support, online resources and more. OCA's vision is to save lives and ensure no woman with ovarian cancer walks alone.

Web: ovariancancer.net.au

Liz's donation link goes directly to them (OCA), this way the collection of donations DOES NOT go through Liz but rather are just logged under the event name: Wangi Wangi RSL – Shave Elizabeth Anne Wright – Awareness & Early Detection.

 Hotel Wangi
 Wangi Wangi RSL Shave for Elizabeth Anne Wright 14/7/17
Peter from Hotel Wangi is Sponsoring Sue Jacobson who is getting her head shaved with Liz. Peter is also promoting the event in his hotel to support the cause. He is also donating funds to the cause.

Hotel Wangi is at 230 Watkins Road, Wangi Wangi NSW 2267

Lakes Mail
Wangi Wangi RSL Shave for Elizabeth Anne Wright 14/7/17

Thank you to David Stewart who is publishing an article on the Lakes Mail Website and also a possible follow-up article in the print paper a week after the event to help us get Liz's message out there.
Website: www.lakesmail.com.au
Facebook: @LakesMail

Tooheys Brewery
Wangi Wangi RSL Shave for Elizabeth Anne Wright 14/7/17

Tooheys Donated Beer Packs

De Bortoli Wines
 Wangi Wangi RSL Shave for Elizabeth Anne Wright 14/7/17

De Bortoli Wines – Donated Gift Packs

Wayne & Arlene Field LJ Hooker Wangi Wangi
Wangi Wangi RSL Shave for Elizabeth Anne Wright 14/7/17
Wayne & Arlene are donating items for raffle or wheel and Arlene is kindly giving a talk on Ovarian Cancer on the event night.
Web Site: www.ljhooker.com.au/wangiwangi
Facebook: @ljhooker.wangiwangi
 Aristocrat
Wangi Wangi RSL Shave for Elizabeth Anne Wright 14/7/17
Aristocrat supply poker machines and have donated golf packs
www.aristocrat.com or Australian site: info.au.aristocratgaming.com
Wangi Pharmacy
 Wangi Wangi RSL Shave for Elizabeth Anne Wright 14/7/17
Donated 2 x picture frames to be raffled off at the Wangi RSL

Wangi Pharmacy is at: Shop 9/226 Watkins Road, Wangi Wangi, NSW, 2267
Phone: (02) 4975 1202
Facebook: @wangipharmacy

Wangi IGA
Wangi Wangi RSL Shave for Elizabeth Anne Wright 14/7/17

Donated 2 x $50 Vouchers (value:$100) to be raffled off at the Wangi RSL
Location: 226 Watkins Rd, Wangi Wangi NSW 2267
Phone: (02) 4975 3790

Helene Ruma Gallery & Art Supplies
Wangi Wangi RSL Shave for Elizabeth Anne Wright 14/7/17

Donated a painting (value: $100) to be raffled off at the Wangi RSL
Location: 236 Watkins Road, Wangi Wangi, NSW 2267
Phone: 0422 969 280

Wangi Wangi Bakehouse & Deck Cafe

 Wangi Wangi RSL Shave for Elizabeth Anne Wright 14/7/17

Wangi Wangi Bakehouse & Deck Cafe Donated a $30 breakfast Voucher for the Wangi Deck Cafe
Location: 242 Watkins Road, Wangi Wangi, NSW 2267

Bakehouse: (02) 4975 2577 Deck Cafe: (02) 4975 4354

 Wangi Service Station
Wangi Wangi RSL Shave for Elizabeth Anne Wright 14/7/17
Wangi Service Station: Great Staff, brilliant old fashioned service.
Donated a $50 Petrol Voucher to be raffled off at the Wangi RSL
Location: 297 Watkins Rd, Wangi Wangi NSW 2267
Phone: (02) 4975 1579
Wangi Hardware
Wangi Wangi RSL Shave for Elizabeth Anne Wright 14/7/17
Sonya for getting the word out and promoting the event to Reporter David Stuart of the Lakes Mail. If it wasn't for Sonya we would not have got the call from David who is helping us to get the word out.

Location: 234 Watkins Rd, Wangi Wangi NSW 2267

Ray Watts
Wangi Wangi RSL Shave for Elizabeth Anne Wright 14/7/17
Ray is a photographer taking video and photos on the night and will be providing pictures to The Lakes Mail